Missed your chance to get a copy of this remarkable book? The e-version of "Afghanistan: A Canadian Story" is now available on Amazon.The original hard copy is now available through The RCEME Guild with proceeds going to support the military and military families through the efforts of the RCEME Guild. (see below) In order to enjoy the e-book you will need to either have an up-to-date Kindle (not the simple black and white Kindles) or install an up-to-date version of the Kindle App on your PC. Mac, tablet, or smart phone. Enjoy!
Welcome to a new chapter in the story of the book "Afghanistan: A Canadian Story". We have found a new home for the print version of the book and the soon to be published e-version. The e-version that was published in 2015 was not true to the original (revised) print version so has been taken down. The RCEME Guild will soon hold all rights to "Afghanistan: A Canadian Story" and contact information for orders, outside of Chapters Indigo, will soon be posted here.
"Afghanistan: A Canadian Story" has been revised, updated and will soon be available as an e-book. The fraudulent 2002 story by Rayne Timmons (he admitted after publication that though he had been in the Army for a few years, he never served in Afghanistan) has been removed, a few that were missed or came in late have been added and one has been moved to the right year. All in all not bad for"errors" in the print version.
For those fortunate enough to either buy or receive a gift copy of the book, you have a one-of-a-kind book. A handful of dedicated volunteers from across Canada spent the better part of almost five years encouraging those who served in Afghanistan to share their experiences there with Canadians. The result is a fascinating collection of stories from 150 men and women who served in one capacity or another, between first deployment by the Royal Canadian Navy in October 2001 to the return of the last troops in March of 2014. This collection is in no way fully representative of the experience of the over 40,000 who served but it does provide a rare and human insight into many aspects of the boots on the ground experience of serving Canada in Afghanistan. And as if that was not reason enough to buy the book, remember that all proceeds go to a variety of Military charities. None of the volunteers made a dime on this. Some of us actually spent a fair chunk of our own change to bring this project to successful conclusion. Enjoy.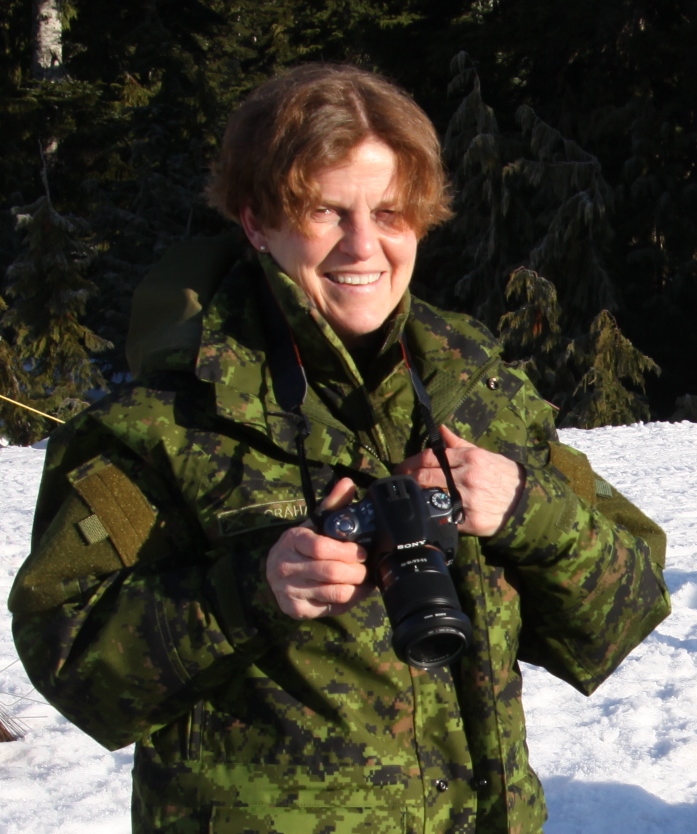 My part in this project is done. I am happily retired now and moving on to other projects. Coordinating "Afghanistan: A Canadian Story" has, however, been an amazing experience. Hard work, unsupported by the Department of National Defence. Fascinating work as the stories and photos came in. Rewarding work as I got to know more of the amazing men and women who serve this country than my job as a Public Affairs Officer would ever have provided.
For those of you who shared some aspect of your deployed experience, my sincere thanks. Without you, this book would not have been possible. I hope it makes it easier for you to share your experience with family and friends.
I also have to take this opportunity to thank the Power Workers Union of Ontario. Without their financial support, "Afghanistan: A Canadian Story" would never have made it past the conceptual phase. There would be no book. This organization was so impressed by the print book that they topped their original support with additional funds to ensure publication of the e-version. Thank you, thank you, thank you.
Before the end of March the Facebook page and everything to do with "Afghanistan: A Canadian Story" will be transferred to the control of the Edmonton Garrison Military Family Resource Centre.
Finally, many many thanks, again and again, to all the wonderful volunteers who helped to make this five year project a resounding success. Awesome support.
---
"Afghanistan: A Canadian Story" makes a great gift. Chapters Indigo still has a few copies in stores across Canada. The Edmonton Garrison MFRC also has a good supply of books, however, and will ship, no charge.  Simply use their order form – ACS – Order Form and fax, scan and email or snail mail your order. Be advised, they do NOT gift wrap. If you are in Edmonton, just drop by the MFRC and pick up your copy (or copies – a great gift idea).
For folks in Calgary, the Military Museums also have a good supply of the available in their gift shop.
__________________________________________
Please note All – It has been brought to our attention that a story in 2002, by Rayne Timmons, is a fabrication. Our apologies to all. Mr. Timmons has asked us to share his apology with everyone:
__________________________________________
"I Rayne Timmons, apologize to all members past, present and future for falsifying a submitted letter to Afghanistan: A Soldiers Story. Everything in the letter was false and did not happen.

I can not begin to say how much I appreciate all the work every hard working man and woman of our great Armed Forces has done for this country, my province, my two little girls and for me.

I look up to all who served here at home and away, and I want them all to know how bad I feel for what I have done.

You, the members are what makes the military a great place to work and people like me should only hold you all in the highest regards. I guess I just  wanted to feel as important as you all are.

And for the great people who created this book, I also send my deepest apologies for tainting such a wonderful book."
__________________________________________
This submission cannot be removed from the published book, but it will be removed from the web site content and from the e-version of the book we plan for next spring.
__________________________________________
The book shipped to Chapters Indigo on October 20th 2014 and should be in stores now.
It is also available through Chapters on-line: http://www.chapters.indigo.ca/books/afghanistan-a-canadian-story/
It has been four years since the undertaking was first conceived by project founders Lt(N) (ret'd) Melanie Graham and Captain Susan Magill. In that time almost 150 men and women who served Canada in Afghanistan have shared their experiences with Canadians in this remarkable book.
To the Families of the Fallen:
For the past four years volunteers across Canada have been collecting stories and photos from the men and women who served Canada in Afghanistan. The result is a remarkable commemorative book, "Afghanistan: A Canadian Story" that tells the story of the boots on the ground experience of that twelve year mission. We would like to take this opportunity to invite you and your friends and family to attend the launch of this book at the Cartier Square Drill Hall on November 3rd 2014, in a ceremony that will run from 6 pm to 8 pm. Your sacrifice on behalf of Canada can never be repaid or properly acknowledged, but in recognition of the service of your Fallen and in respect and consideration for all that your family has given, we would like to give you a gift copy of "Afghanistan: A Canadian Story". Jennifer Fraser, wife of Sgt Devin Fraser 2 PPCLI, raised over $8000 to ensure each Family of the Fallen could receive a gift copy of this book. If this is of interest to you please contact us at consult@mywrdwrx.com and arrangements will be made to deliver a copy to you or a recipient of your choice. There is no way to make up for your loss but we hope the stories and photos in "Afghanistan: A Canadian Story" will provide some comfort and in some small way give you a better insight into what individual Canadians accomplished in this mission.
---
Remember, net proceeds from book sales will go to the Edmonton Military Family Resources Centre, to be shared with military support services such as the Boomers Legacy Foundation, the Military Families Fund, the Soldier On Fund and Operation Dignity St Anne de Bellevue Veterans Hospital Foundation. Thanks to the amazing efforts of Jennifer Fraser, over $8000 have also been raised to ensure that every family of the Fallen receives a gift copy of the book. Interested families of the Fallen please email consult@mywrdwrx.com and provide a point of contact so that Jennifer can get in touch. Thank you everyone who has helped to make this book possible.
---
. . . .  an interactive web site for the development of a hard cover coffee table book that tells the story of the Canadian Afghan Mission 2001 to 2014. Canadian Afghan Veterans, Military, Police, RCMP, Corrections Canada embedded media, and civilians who deployed in support of the mission, have shared their stories and photos with the legacy album: "Afghanistan: A Soldier's Story" This is not a DND project, but is the work of serving and retired Canadian Forces volunteers. The Edmonton MFRC is administering a fund for the project and net proceeds will be distributed, by them, to Military support services like the Boomer's Legacy Foundation, the Military Families Fund, and the Soldier On Fund.
Many thanks for your support of this worthwhile undertaking.
Questions can be directed to:
communications@mfrcedmonton.com
_________________________________________________________________
Ce projet, non associé au MDN, est celui de membres des Forces canadiennes en service ou à la retraite.
 Le CRFM d'Edmonton gèrera les fonds du projet et la somme recueillie sera distribué, par eux, à la fondation Boomer's Legacy Foundation, au Fonds pour les familles des militaires et au Fonds « sans limites » des FC.
Si vous avez des questions, veuillez les faire parvenir par courriel au: