Please note All – It has been brought to our attention that a story in 2002, by Rayne Timmons, is a fabrication. Our apologies to all. Mr. Timmons has asked us to share his apology with everyone:
__________________________________________
"I Rayne Timmons, apologize to all members past, present and future for falsifying a submitted letter to Afghanistan: A Soldiers Story. Everything in the letter was false and did not happen.
I can not begin to say how much I appreciate all the work every hard working man and woman of our great Armed Forces has done for this country, my province, my two little girls and for me.
I look up to all who served here at home and away, and I want them all to know how bad I feel for what I have done.
You, the members are what makes the military a great place to work and people like me should only hold you all in the highest regards. I guess I just  wanted to feel as important as you all are.
And for the great people who created this book, I also send my deepest apologies for tainting such a wonderful book."
____________________________________________
This submission cannot be removed from the published book, but it will be removed from the web site content and from the e-version of the book we plan for next spring.
The Mile of Bombs
Sgt Richard Fiessel, OP APOLLO 2002
During the initial surge into Afghanistan, OP APOLLO 2002, Engineer elements of the 3 PPCLI Battle group (12Fd Sqn, RAKKASAN SAPPERS) teamed up with the American EOD team on a regular basis to deal with the disposal of old Soviet ordnance in and around the Kandahar Airfield (KAF) that had been left behind intact during their hasty retreat.
One particular area located South near KAF near the 'Apartment Complex', as it was known, there was an excessive amount of ordnance laid out in a strait line, running East to West in a ditch, about 300-400m long and about 1.5m deep, packed tip to tail with all kinds of Soviet Air ordnance. Everything from 250lb-1000lb HE, Incendiary and Cluster bombs, were there for the taking, for enemy combatants to take advantage of. Luckily, IED's were not on their agenda yet and we were able to dispose of them before they took advantage of them.
Our American counterparts were able to take advantage of the fact that we had a MLVW HIAB, and Sgt Doug Duval (ret), a qualified HB Combat Engineer, to assist in the disposal of these munitions. The rest of the party consisted of Cpl Porteus(ret), Cpl Moog and me (Cpl Fiessel); I would tag along to get away from the water point. This task was a 3 part operation; Part 1 was the gathering and identification of the munitions, part 2 was the stacking/ configuring of the munitions on aircraft pallets to facilitate their effective destruction and part 3 was the moving of the pallets to the disposal site West of KAF and their final destruction, initiated with C4.
The contribution made to the entire ordnance disposal effort by 12 Fd Sqn and our American counterparts during OP APOLLO greatly decreased the amount of old ordnance that was left in the AOR, considerably reducing the quantity of explosive contents left behind by the Soviet retreat that may have well been used in the future for the enemy IED campaign.
________________________________________________________
"Weather Rock" 
Roy Harding 3 PPCLI
I was the Chief Clerk for the first Army deployment to Afghanistan in 2002.
We (3VP) were located on the edge of the Kandahar Airfield.  My Orderly Room was set up in modular tentage, and the window which my "desk" (a 6 foot folding table) was situated under gave a view of the single mountain in sight, which appeared to grow out of the desert without the aid of an accompanying mountain range.
I used to call that single mountain my "weather rock".  When you could see it clearly – it was going to be freakin' hot.  When it was somewhat hazy, there was a dust-storm on its' way.  When you couldn't see it at all – the dust storm had arrived.
Photo taken by  Adrian MacNair on a trip from Kandahar Airfield to forward operating base Camp Nathan Smith in Kandahar City, October 2, 010. The enormous mountain to the right has large holes carved into the rock.
http://unambig.com/a-tour-of-kandahar-airfield-part-ii/
______________________________________________________________________
Remembering Three Tours
Warrant Officer Randie Potts, CISTM – 1 Service Battalion Edmonton.
I have done three tours in Afghanistan, 2002, 2006 and 2011. All three tours were based out of Kandahar Airfield.  I would like to share some changes that I experienced over there.
2002 – The American C-17 transport planes did not stay long on the tarmac at the air field.  They wouldn't even turn off the engines.  Freight and personnel were hustled off the plane to the Kandahar passenger terminal. The windows that at the time had no glass.  There were no lights except a hazy glow from flood lights that surrounded the prisoner compound.  Dressed in our green CADPAT combats in the dark we were very hard to see compared to the American desert camouflage.  A quick briefing then shown where we were to set up our 4 man RECCE tents, our quarters for the next six months or so.  We slept on a cot and air mattress only when the sun went down, the air was too hot inside them otherwise.  The compound we were to use was not cleared of mines; the engineers then had to cover it with crushed rock.  When we did move into the compound we had to put sheets of wood down under our tents so they would not get torn up by the sharp rocks.  Meals were Canadian IMP's or American MRE's as there were no mess halls.  Our work area consisted of two LSVW LCIS MRTs, a 5KW generator on a trailer and three sections of Modular tentage.  It was our work / rest / meal area for the whole tour.  The PX was a tent.  I observed improvements on a daily basis.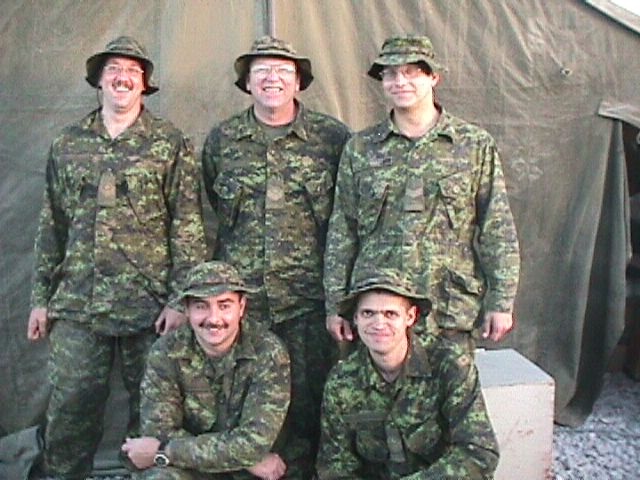 __________________________________________________________________________